【CSW 67 Parallel Event】Ending Nonconsensual Filming & Distribution of Porn Videos: Challenges, Best Practices, and Lessons in Various Countries~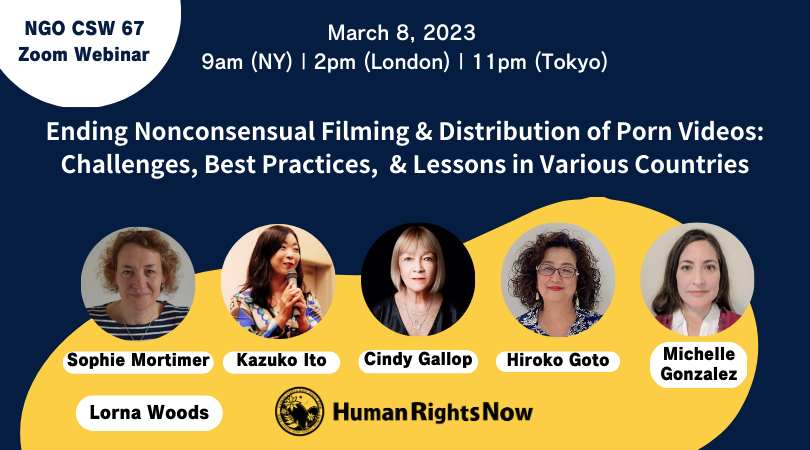 Human Rights Now will hold an online event titled "Ending non-consensual filming & distribution of pornographic videos : challenges, best practices, and lessons in various countries." This panel session will be held as part of the NGO CSW Forum 67 which will take place between March 5-17 in parallel to the 67th session of the Committee on the Status of Women.
【Event Details】
Date: March 8, 2023
Time: 9am (New York) | 2pm (London) |11pm (Tokyo)
Venue: Virtual (Zoom webinar)
Language: English
Registration:  https://www.eventbrite.com/e/542202701877
【Panelists】
Lorna Woods
Professor of Internet Law. She started her career as a practicing solicitor in a technology, media and telecommunications practice in the City of London. She has extensive experience in the field of media policy and communications regulation, including data protection, social media and the Internet, publishing widely in these areas. Most recently, she has co-edited a collection on platform regulation: Perspectives on Platform Regulation Concepts and Models of Social Media Governance Across the Globe (Nomos). As well as taking part in commissioned studies, she has been invited to give expert evidence to parliamentary inquiries both in the UK and elsewhere, as well as working with international organisations – for example, chairing an Expert Working Group on Content Moderation and AI for the OSCE's Representative for Freedom of the Media's SAIFE initiative. Her current research project with Carnegie UK Trust, which was shortlisted in 2019 for Research Project of the Year: Arts, Humanities and Social Sciences, is on reducing harm arising on social media – and includes work on online violence against women and girls and tackling image based sexual abuse (working with NGOs such as HateAid and Glitch). In recognition of her work with Carnegie, she was awarded an OBE in 2020 for her services to internet safety policy.
Michelle Gonzalez
Michelle Gonzalez, executive director of Cyber Civil Rights Initiative (CCRI), is a nonprofit professional with over 20 years of experience, including ten years as an executive director and five additional years in senior leadership positions. She trains and oversees the CCRI Image Abuse Helpline, offers one- on- one case management on complex IBSA cases, and conducts trainings and offers technical assistance to direct service organizations and universities. Prior to joining the CCRI team, Michelle oversaw a community center that included a 50-bed women's homeless shelter, a daycare for 80 children from under-resourced backgrounds, and an after-school program for at-risk teen girls. Michelle also oversaw and answered a 24/7 hotline during her tenure as executive director at a local domestic violence and sexual assault organization. Michelle has also devoted over seven years to immigration programming, and she developed three pilot projects (related to domestic violence, mental health, and emergency housing) and scaled programming to open three new offices. Michelle's management background includes 15 years overseeing complex multi-grant, multi-year budgets of nine million dollars annually; monitoring program outcomes per federal, state and funder guidelines; preparing for annual financial and insurance audits; and supervising over 100 direct and indirect reports.
Sophie Mortimer
Manager of the Revenge Porn Helpline run by the South West Grid for Learning (SWGfL), an organization for ensuring the safety of technology. She is also a manager of StopNCII.org, a groundbreaking platform developed with Meta that boasts a 90% removal rate of non-consensual sexual images.  She has participated in many meetings with the UK government, the Legal Services Commission, and stakeholders in the field of violence against women and girls, and is active in raising awareness about the misuse of sexual images in the UK and abroad, both through the media and research. She also has an experience at the forefront of the criminal justice system, having served as a UK Justice of the Peace for 15 years.
Kazuko Ito
Founder and vice president of Human Rights Now, president of Human Rights Now New York, and an attorney at law. She serves as chair of the Gender Equality Committee of the Japan Federation of Bar Associations, and is a board member of the Gender Law Society and International Human Rights Law Society in Japan. Ms. Ito has written numerous books and articles on human rights issues, including "Wrongful Convictions and Criminal Justice Reform in Japan" in the University of Cincinnati Law Review and a chapter in the book "The Global Me Too Movement: How Social Media Propelled a Historic Movement and How the Law Responded" (2020). She has an LL.B from Waseda University and is currently a doctoral researcher there. Ms. Ito was a visiting scholar at NYU School of Law in 2005.
Cindy Gallop
Cindy Gallop is the founder and CEO of MakeLoveNotPorn, launched at TED 2009 – 'Pro-sex. Pro-porn. Pro-knowing the difference'. In 2013 she turned MakeLoveNotPorn into the world's first user-generated, human-curated social sex videosharing platform socializing and normalizing sex in order to make it easier to talk about, to promote consent, communication, good sexual values and good sexual behavior. MakeLoveNotPorn's mission is to end rape culture by spearheading the Social Sex Revolution (the revolutionary part isn't the sex, but the social). Cindy speaks at conferences globally and consults, describing her approach as 'I like to blow shit up. I am the Michael Bay of business.' Follow her on Twitter @cindygallop.
Hiroko Goto
Professor of Chiba University Law School in Japan and its dean from 2018 to 2020 and vice president of Human Rights Now. Ms. Goto is also Vice President of the Japan Association of Gender and Law, Board member of the Japanese Association of Victimology, and expert member on violence against women for the Gender Equality Bureau. She obtained her LL.B. and LL.M. degrees from Keio University in Tokyo, and teaches Gender and Law and Juvenile Law at Chiba University Law School.