June 16, 2017 (Fri) — Freedom of Expression in Japan: Report and Conversation with David Kaye, UN Special Rapporteur on Freedom of Opinion and Expression.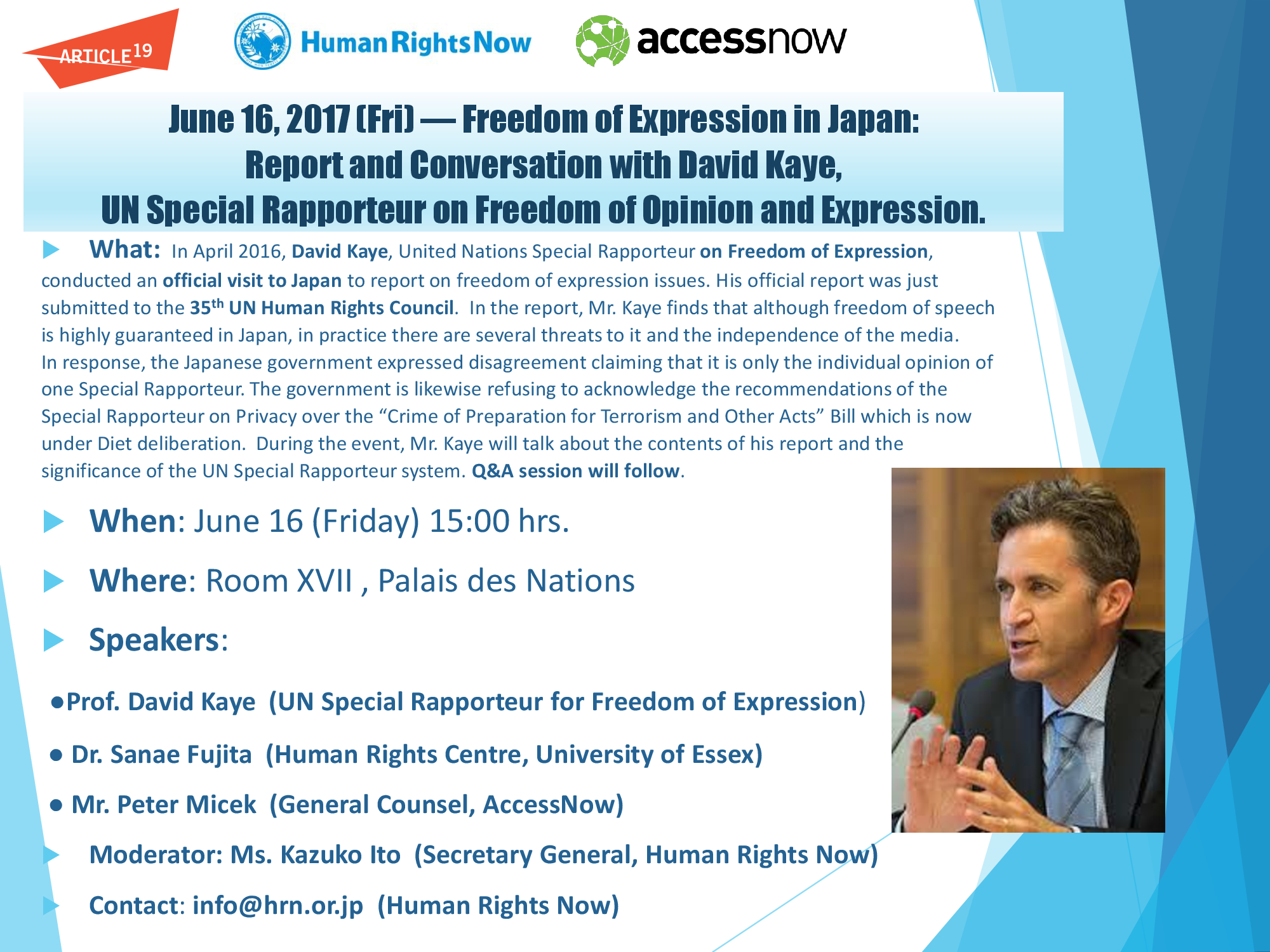 What:  In April 2016, David Kaye, United Nations Special Rapporteur on Freedom of Expression, conducted an official visit to Japan to report on freedom of expression issues. His official report was just submitted to the 35th UN Human Rights Council.  In the report, Mr. Kaye finds that although freedom of speech is highly guaranteed in Japan, in practice there are several threats to it and the independence of the media. In response, the Japanese government expressed disagreement claiming that it is only the individual opinion of one Special Rapporteur. The government is likewise refusing to acknowledge the recommendations of the Special Rapporteur on Privacy over the "Crime of Preparation for Terrorism and Other Acts" Bill which is now under Diet deliberation.  During the event, Mr. Kaye will talk about the contents of his report and the significance of the UN Special Rapporteur system. Q&A session will follow.
When: June 16 (Friday) 15:00 hrs.
Where: Room XVII , Palais des Nations, Geneva
Speakers:
Prof. David Kaye (UN Special Rapporteur for Freedom of Expression)
Dr. Sanae Fujita (Human Rights Centre, University of Essex)
Mr. Peter Micek (General Counsel, AccessNow)
Moderator: Ms. Kazuko Ito (Secretary General, Human Rights Now)
Contact: info@hrn.or.jp (Human Rights Now)