Japan: HRN's oral statement on Freedom of Expression in Japan at the UN Human Rights Council 35th session.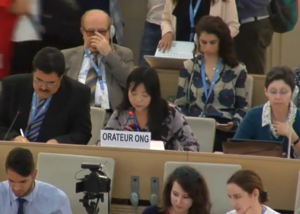 Last Monday, June 12, Secretary General of Human Rights Now (HRN) Kazuko Ito gave an oral statement at the 35th session of the UN Human Rights Council held in Geneva, Switzerland, in a dialog meeting in which UN Special Rapporteur David Kaye presented his report on freedom of expression in Japan.
The comments welcomed Mr. Kaye's report, which recommended that the Japanese government review its broadcasting laws to secure the independence of the media. Unfortunately, the Japanese government referred to the report dismissively as the Special Rapporteur's "personal opinion". HRN thus strongly urged the government respect the voices of special rapporteurs, take the findings of Mr. Kaye's report seriously, and take concrete measures to implement its recommendations.
Ms. Ito's remarks can be viewed online on the UN WebTV website, available here.
Ms. Ito's is the 27th remark (at 00:57:52). Her statement is also written below.
HRN also submitted other written statements to the Human Rights Council, available here.
ID: SR on Freedom of Expression – 15th Meeting, 35th Regular Session Human Rights Council
===================
Human Rights Now
June 12, 2017
35th Human Rights Council
Agenda Item 3
Speaker: Ms. Kazuko Ito
Thank you, Mr President.
Human Rights Now, on behalf of broader civil society in Japan, welcomes the report
of UN Special Rapporteur David Kaye on the freedom of expression in Japan.
We share the serious concern with threats against media independence highlighted
in his report. In recent years, the Japanese government has suggested use
of the Broadcast Act to revoke broadcast licenses based on the content of reporting,
which has caused an enormously negative impact.
Also, there has been serious threats and intimidation against journalist covering
the issue of "comfort women" as indicated in the report. Indeed, such intimidation
has caused a chilling effect for journalists to cover sensitive issues.
We call on the government to cease any interference against media independence,
and publicly reject any form of threat and intimidation against journalists.
Unfortunately, the government has dismissed this report claiming that interviews
it is based on are unverified and hearsay. However, this ignores the possible harm
journalists face to publicly speak about internal matters.
Mr. President, we are gravely concerned about government ignorance and hostility
toward the voices of UN special rapportuers. The government publicly announced
that works of special rapportuers are merely individual opinions and justified their rejection.
Recently, the government strongly protested a letter sent by UN Special Rapporteur Cannataci over the Conspiracy Bill which risks interfering with civil society activity.
We strongly urge the Japanese government to respect the voices of UN special rapportuers and take concrete steps to implement the recommendations made by Mr. Kaye.
Thank you Mr. President and Mr. Kaye.