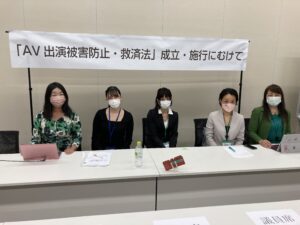 【Press Conference】
On June 15, a bill to prevent young people from being exploited in adult pornographic videos was passed into law in Japan. The new law is the first to be tailored specifically to victims of adult video exploitation.
On the same day, Human Rights Now held a press conference in the National Diet building along with PAPS and SPRING, victim support organizations based in tokyo, and Kurumin Aroma, a social activist/YouTuber/former actress.
At the conference, speakers praised the new law as one step giving hope to victims and expressed their gratitude to members of the ruling and opposition parties who contributed to passing the bill into law.
Kazuko Ito, Vice-President of Human Rights Now and an attorney at law, commented, "Compared to the hellish situation before where there was no recourse for victims, this is really a valuable step forward. It's a law giving victims hope."
At the conference, messages from the two former actresses were also read aloud on behalf of them.
One Diet member stated that he was impressed by the fact that the efforts beyond the ruling and opposition parties have made it possible to establish a viable law with penalties in such a short period of time.
【News media coverage】
English
Japanese