Let's Discuss Cutting Edge Human Rights Issues in English!
Human Rights Now is hosting an eikaiwa discussion course Aug. to Sept. 2019 titled "Cutting Edge Topics in Human Rights". For this course, we are focusing on human rights topics that are new issues that activists and lawyers have only taken up in recent years. Many may not have even been considered human rights issues in many countries even 10 or 20 years ago. They involve new technologies that affect human rights, like autonomous weapons ("killer robots") and online surveillance, and new problems and opportunities, like the human rights impacts of climate change and SDGs. These topics represent the most advanced ways that human rights law is working to protect vulnerable people today, and all of them raise very interesting issues we will discuss.
We look forward to your participation!
*As the number of participants is limited, we encourage you to apply as soon as possible.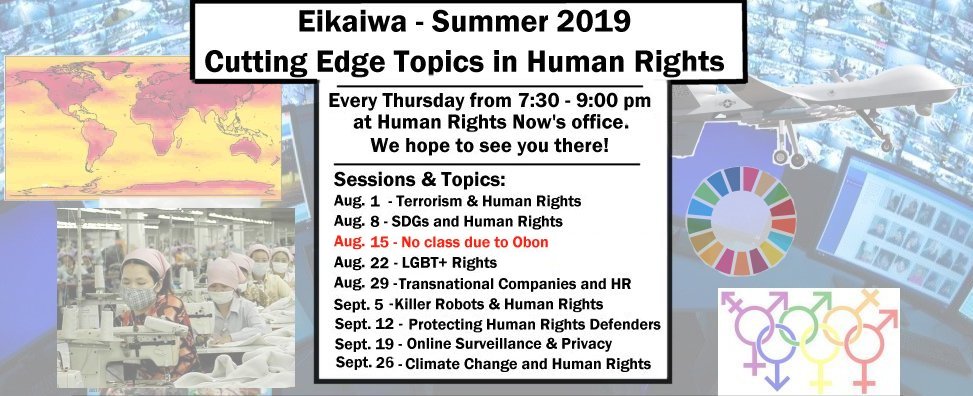 ■ Let's Discuss Cutting Edge Human Rights Topics in English!
The purpose of this course is to improve your English skills and to learn about and discuss modern topics in human rights through English materials. This course is aimed at people wanting to learn how to express their opinions in English, as well as people interested in the latest issues happening in the human rights world. It is also for anyone wanting to improve their English skills generally.
The facilitator, Christopher Cade Mosley (going by Cade), is a staff member of HRN and a New York State Attorney. He previously worked in the field of environmental law and international human rights law, and he has taught international human rights to Myanmar law students.
Everyone, from students to workers with a basic understanding of English is welcome.
We are looking forward to your participation!
Date/time and location
Every Thursday, 7:30 – 9 pm, Aug. through Sept. 2019.
Human Rights Now Office
4F Suzuki Bldg., 335 Yamabukicho
Shinjuku-ku, Tokyo 162-0801 JAPAN
Session contents and schedule
Aug. 1 – Terrorism & Human Rights
Aug. 8 – SDGs and Human Rights
(Aug. 15 – No session)
Aug. 22 – LGBT+ Rights
Aug. 29 – Transnational Companies and Human Rights
Sept. 5 – Killer Robots & Human Rights
Sept. 12 – Protecting Human Rights Defenders
Sept. 19 – Online Surveillance & Privacy
Sept. 26 – Climate Change and Human Rights
Attendance fee
・Fee for each lesson:¥3,500(Students ¥3,000 Please bring your Student ID)*To be paid before each lesson
★People willing to attend several lessons can buy a multi-lesson coupon.
・4 lesson coupon ¥11,000 / Student: ¥10,000(save ¥3,000 / ¥2,000)
・8 lesson coupon ¥23,000 / Student: ¥20,000(save ¥5,000 / ¥4,000)
* Please purchase your coupon before the beginning of your first lesson
* A ¥1,500 cancellation fee will occur from one week before each session, but you will also receive the class materials for this fee. You can also just purchase the class materials for this fee if you cannot attend the session. Let us know by email.
Language requirement
・English level TOEIC score 600~800
* This TOEIC score is only a rough estimate. Please feel free to contact us if you have any doubts regarding your English proficiency.
* All the lessons will be conducted in English. We advise you to bring a dictionary with you for every lesson.
How to apply
To register, fill out our online application form.
You can also send a mail to the organiser (cade.mosley@hrn.or.jp) with ① your name, ② contact information, ③ lessons you want to attend, ④ status (General or Student) to apply for the course.
Contact
Human Rights Now Office (Cade Mosley)
Email : cade.mosley@hrn.or.jp Tel. +81-3-6228-1528