Join Our English Book Club! #MeToo Movement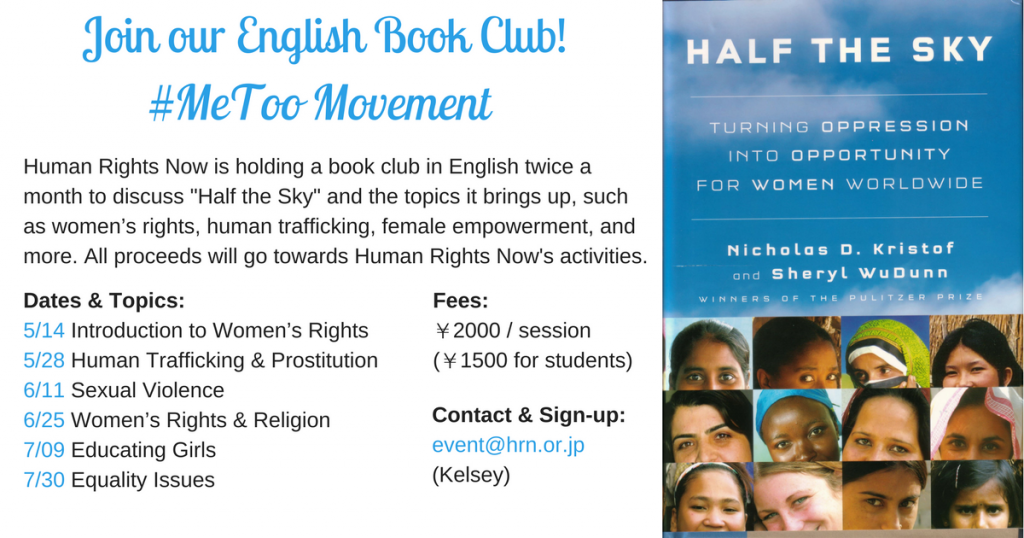 Human Rights Now (HRN) is holding a book club in English twice a month to discuss "Half the Sky" and the topics it brings up, such as women's rights, human trafficking, female empowerment, and more. 100% of the proceeds will go towards HRN's activities.
In "Half the Sky," authors Nicholas D. Kristof and Sheryl WuDunn write about women's emancipation and the importance of unleashing their potential through stories of women in Asia and Africa who struggle against oppression, violence and exploitation.
We will talk about the global issues facing women – from maternal mortality to education and economic independence.
This club is perfect for native speakers and learners alike! Learners will challenge themselves while developing skills to express their opinions and ask questions in English. "Half the Sky" has a Japanese translation also available for purchase online that may be useful for learners.
Don't miss our sessions if you are interested in learning about international human rights issues and practicing conversation in English! To sign up or for inquiries, please contact HRN at event@hrn.or.jp or 03-3835-2110.
Note: We will give the schedule of the readings once you have registered. Please purchase the book yourself and come having read the sections. It can be found on Amazon and other outlets in Japan.
————————–————————–————————–—–
Discussion facilitators: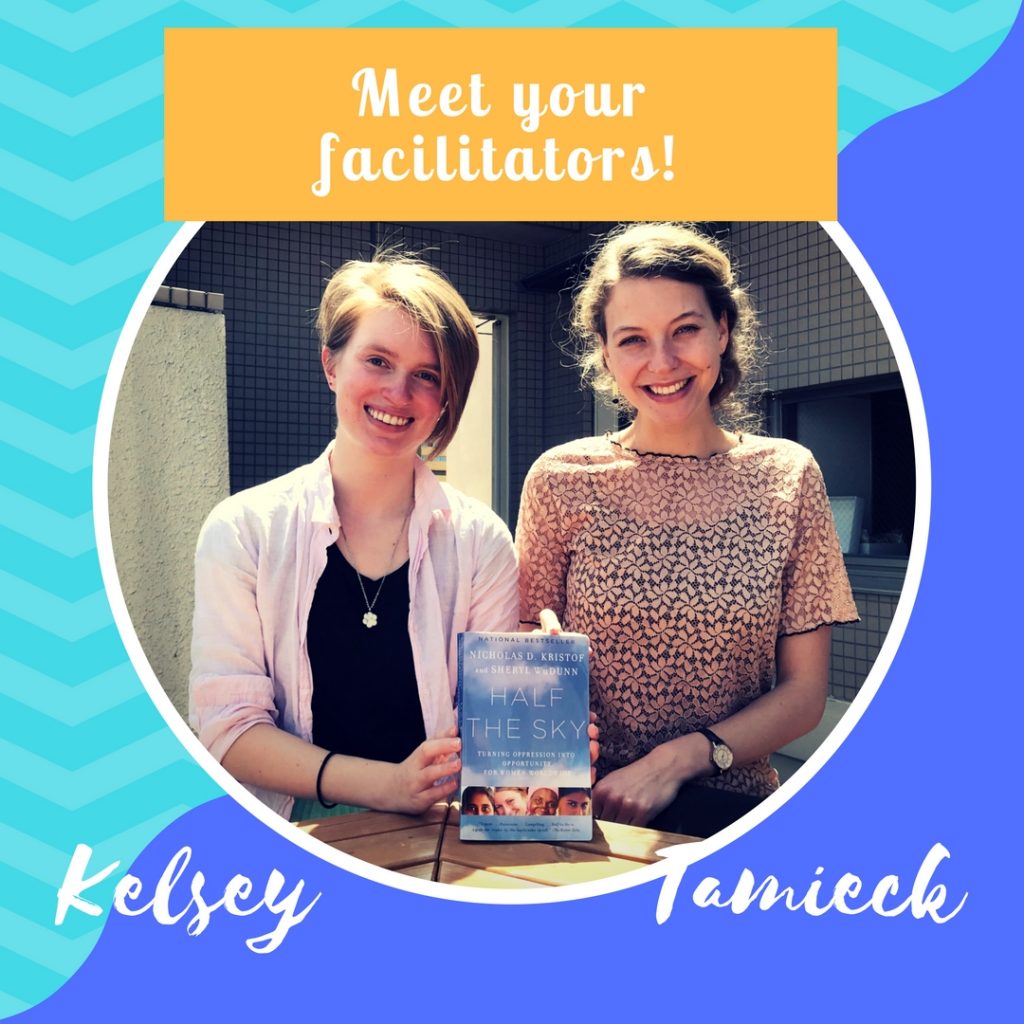 Kelsey Lechner – Advocacy Staff
Kelsey has a bachelor's degree in Japanese and international relations from Indiana University. She wrote her thesis on human trafficking and the female idol culture in Japan. She has over 5 years of English teaching experience and TEFL certification.
Tamieck van Vuuren – Fellow
Tamieck has a law degree in international human rights from the Irish Centre for Human Rights. She has experience working in Europe on migrants rights, disability rights and women's rights issues. Since September 2017 she works as a research fellow at HRN's Tokyo office.
————————–————————–————————–—–
Dates & Topics:
5/14 Introduction to Women's Rights
5/28 Human Trafficking & Prostitution
6/11 Sexual Violence
6/25 Women's Rights & Religion
7/09 Educating Girls
7/30 Equality Issues
(You can find the detailed schedule with the readings here: Half the Sky book club 2018 schedule)
Time: 19:30 – 21:00
Fees:
¥2000 / session
(¥1500 for students)
Location: Human Rights Now (110-0005 JAPAN, Tokyo, Taito-ku, Ueno 5-3-4, Creative One Akihabara Building, 7F)
Contact & Sign-up:
Please sign up through the Google Form here: goo.gl/eqG6FK
Alternatively, contact Kelsey at events@hrn.or.jp or 03-3835-2110.
Please give us your name, email address, and sessions you would like to attend.