The Panel Session "Beyond the #MeToo Movement: Protecting Silence Breakers & Changing Social Norms" will be held on 16 March 2018, 4:30 pm, Vartan Hall, 630 2nd Ave., New York City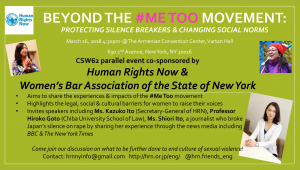 Event Details: Human Rights Now and the Women's Bar Association of the State of New York are co-organizing a panel session titled "Beyond the #MeToo Movement: Protecting Silence Breakers & Changing Social Norms" to tackle Japan's silence on sexual assault & harassment. As thousands of women around the world gather in NYC during the sixty-second session of the Commission on the Status of Women (CSW62, March 12-23), Human Rights Now will discuss how to break social, cultural and legal barriers within a society that discourage women to speak out. Further, the discussion aims to highlight how the legal and social system can support access to truth and justice and provide an effective remedy for survivors. The discussion will be followed by a Q&A session.
Speakers: The event will include three panelists.
Shiori Ito (Journalist, author of Black Box, and a forerunner of Japan's #MeToo movement)
Kazuko Ito (Secretary-General of Human Rights Now & lawyer)
Hiroko Goto (Professor at Chiba University School of Law)
Date and Time: Friday, 16 March 2018, from 4:30 pm
Location: Armenian Convention Center, Vartan Hall, at 630 2nd Ave., New York, NY 10016 (in Mid-Manhattan)
The event is open to the public.
About Shiori Ito: Shiori Ito's experience illustrates the massive challenge for women in Japan to raise their voices and pursue truth and justice for sexual violence. After she revealed that she had been assaulted by a politically influential journalist, neither the social nor the legal system sufficiently helped her with her claim. Instead, she experienced media silence and a massive backlash by society.
Contact for more information:
Maromi Martinez, NY Office Representative Human Rights Now
Phone: (816)305-3268
Email: martinez9653@sbcglobal.net
HRN Website: http://hrn.or.jp/eng