[Event] Charity Walk & Run for Universal Children's Day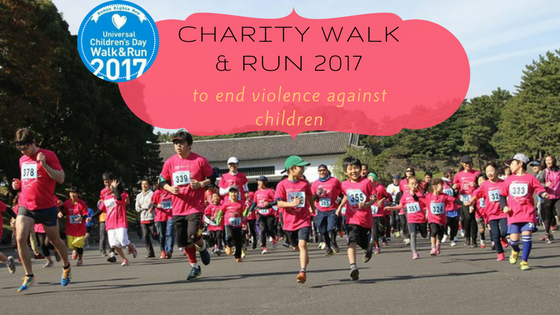 November 20 is designated as Universal Children's Day by the United Nations as a day to promote international togetherness and awareness among children worldwide, as well as to improve the welfare of children's. Nevertheless, children are still suffering all over the world, with Japan being no exception.
We at Human Rights Now want to change that. We want us all to consider what children's rights truly are, and for this reason, every year we hold an open event to celebrate this day: our annual charity walk and run!
To help spread our message and tell the world that children are important, and indeed our future, you are essential!
The core theme of our walk and run this year is ending violence against children.
In Japan, many children are suffering from bullying, physical and emotional abuse, and sexual exploitation. Children around the globe are victims of armed conflicts, human trafficking, and other catastrophes.
We are scheduling different types of action to take on this day to help rid the world of this abuse. Our organization will also be present at the grounds to offer detailed information about what we are doing in relation to children's rights as well as more information about the current situation of children's rights. We will also have speeches about children's rights. Gather your friends, family, neighbors, and coworkers together, and help tell the world that we are watching, and we will change it!
*Violence against children includes physical and psychological punishment and abuse, bullying, child labor, and human trafficking. Eradicating violence against children is one of the UN's Sustainable Development Goals (SDGs), listed in 16.2.
Whether you're an avid runner or only a casual walker, you can help us make a difference! Come join us on November 18th!
NOTICE:
The deadline to purchase tickets through Peatix (http://peatix.com/event/299863/) has been extended. However, as the deadline has passed, we cannot guarantee T-shirts and other participation gifts for those who apply after Oct. 31. Thank you for your cooperation.
★Prices:
O Adults: 5km walk ¥3,500 | 5km run ¥4,000 |
10km run ¥4,500 | 20km run ¥5,000 |
20km relay ¥15,000 (team of 4)
O University students: ¥3,500 | 20km relay ¥10,000 (team of 4)
O Middle/High school students:¥2,500
O Elementary school students: ¥1,000 (guardian must be present)
O Children under the age of 6: free (guardian must be present)
★Application notice:
OTickets must be bought in advance.
OElementary school students must be accompanied by a parent or guardian. Please apply to race separately. Children that have not yet started elementary school may join with a parent or guardian free of charge.
OFor those participating in the 20km relay: Please have only one (1) representative of your team apply. If a team is comprised of both adults and students, please apply to the adult team.
★Schedule:
Check-in time: 8:30(walk & 20km run), 9:30 (10km & 5km run)
Check-in location: Hibiya Park, Kenko Hiroba (日比谷公園健康広場)
Opening ceremony: 9:00 (5km walk, 20km relay, 20km run), 10:00 (10km & 5km run)
Start time: 9:30 (20km relay, 20km run), 9:40 (5km walk), 10:30 (10km run), 10:40 (5km run)
Start & end gate: Sakurada-mon (桜田門)
★Schedule (by event):
*5km walk
09:00 Reception
09:40 Start
*20km run & relay
09:00 Reception
09:30 Start
*10km run
9:40 Reception
10:30 Start
*5km run
9:40 Reception
10:40 Start
*General
12:00 Closing Ceremony
12:30 Finish
★Notes:
T-shirts will be given out as participation prizes.
Human Rights Now is enrolled in sports accident insurance.
Drinks will be passed out to participants throughout the course.
The event will still be held if it rains.
For further inquiries, please contact the Human Rights Now office
7F Creative One Akihabara Bldg., 5-3-4 Ueno, Taito-ku, Tokyo 110-0005 JAPAN
Phone number: 03-3835-2110
Email: run@hrm.or.jp