Ending Forced Appearances in Pornographic Films – Report & Symposium at the National Diet of Japan
On March 3, 2016, Human Rights Now released the investigative report "Human Rights Violations against Women and Girls manifesting from the Pornographic Film Industry in Japan", resulting in strong public reaction.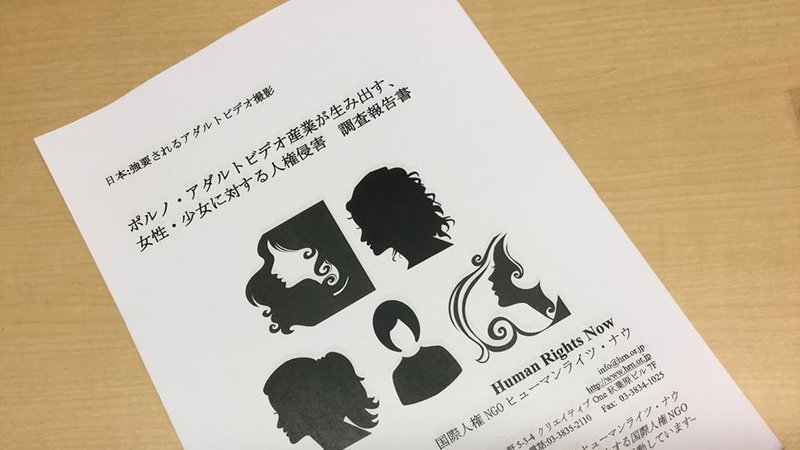 HRN investigated a number of cases where women were forced to appear in Japanese pornographic films
It has been frequently reported that many young women who were scouted as TV personalities or models, were deceived, and tricked into performing in pornographic films.
HRN conducted an investigation by interviewing the victims and their supporters to determine the facts. We revealed that in many cases, these young women who signed to agencies without knowing what would happen and were subsequently threatened. Threats made included things such as "You can't reject the job, you have signed a contract," "if you refuse to work, you are responsible to pay for the damages," or "your parents will find out about your work". The women felt they had no other choice but to participate in the filming of pornographic movies.
Taking advantage of inexperienced and distressed young women, forcing them to perform non-consensual sexual acts in front of the camera and the crew, and later publishing such material publicly is not only humiliating but presents serious violations of human rights.
These women are held in a subordinate position due to fear of financial penalties. This is similar to "debt bondage" where people are compelled into slavery through the unlawful threat of "debt". It also constitutes violence against women.
The consequences of coerced appearance in the pornography are grave. Some victims experience post-traumatic stress disorder (PTSD), or commit suicide after suffering from the humiliation of having the material distributed through the internet and stores, and some undergo repetitive plastic surgeries. 
The damage of forced appearances: exposing the unregulated world of pornography in Japan
Human Rights Now released a report, based on their investigation into the unconsented filming of pornography on 3 March 2016.
In order to combat the forced appearances in pornographic films, HRN calls on the Japanese Government to:
implement comprehensive and effective legislation,
implement a fact finding survey,
establish counseling services for victims and strict control measures.
Support organizations reported giving more than 90 counseling sessions to victims over 3 years from 2012-2015. Among the victims was a woman who took her own life after appearing in a pornographic film, because of regret and anguish over the continued distribution of the films after the termination of contract.
The forced appearance in pornography occurs under schemes where the young women are recruited and enter into contracts with various agencies. They are then dispatched to pornography companies as actresses.
The acting in pornographic films falls under "harmful work" which is banned in the Worker Dispatch Act, therefore, the practice of dispatching the actresses to pornography companies and having them perform on camera is subject to legal punishment for violating the Dispatch Act.
However, many agencies avoid legal liability through methods such as signing outsourcing agreements instead of employment contracts with the women.
While these women are misled, coerced and encounter highly distressing circumstances, their agencies are rarely prosecuted for rape, compulsion, injury or battery, on the pretext that the women "consent".
Moreover, the victims of coerced filming are excluded from protection under consumer protection laws, because they do not fit in the definition of "consumer" under the existing legislation.
HRN requests that relevant parties consider the following measures to prevent further damages.
To the Cabinet Office and Members of the Diet
To conduct necessary investigations regarding the coerced appearance in pornographic films, consider and prepare legislative amendments which include the following contents, in order to provide protection and relief for victims.
–   Establishment of a regulatory government agency
–   Prohibition of malicious solicitation and recruitment
–   Prohibition of financial penalty for women who break their contracts
–   Prohibition of unconsented filming
–   Criminal punishment for those who violate relevant legal protections
–   Authorization for contract cancellation at any time, regardless of the terms of contract
–   Suspension of the production and distribution of products produced through unconsented filming
–   To take measures such as publicly shaming dishonest enterprises, and suspending those business
–   Establishment of counseling and support services
To the Police and Prosecutors
To actively investigate and prosecute violations of laws, and protect women from serious   harm.
To the relevant enterprises of pornography production
To adopt countermeasures across the entire industry in order to avoid human rights violations in the course of pornographic film production.
Symposium at the National Diet of Japan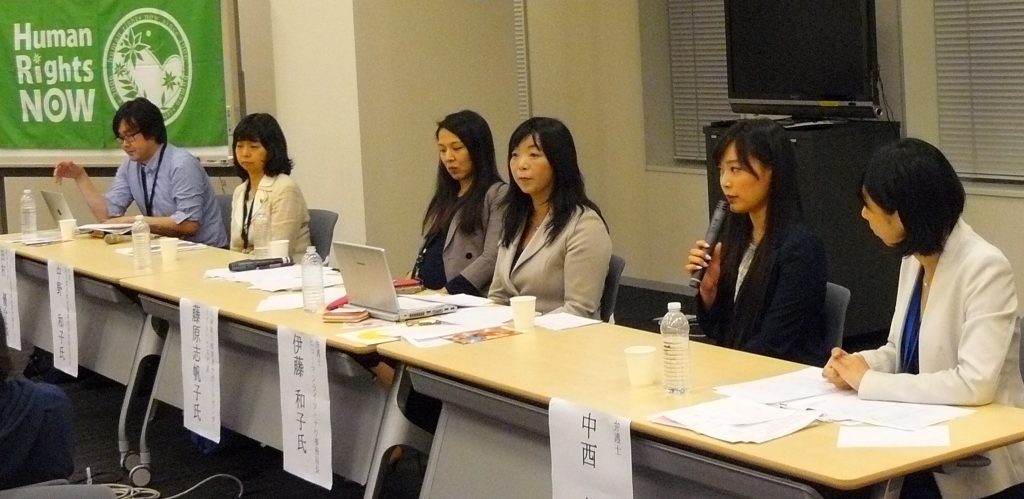 To highlight this issue, Human Rights Now held a symposium at the House of Councillors at the National Diet of Japan, on May 26, 2016.
Shihoko Fujiwara – founder of Japan's Lighthouse center for human trafficking victims, and Kazuko Ito – secretary general of Human Rights Now (HRN), each presented their reports on coerced filming of pornographic videos. Kazuko Nakano, attorney & consumer specialist, and Yuusuke Tamura, attorney & labor law specialist, gave their comments from a legal perspective. The event was attended by many journalists as well as members of the public. Following the speakers, some members of Diet expressed determination against the issue.
Voice of a victim – I have lost my dignity
The symposium started with a pre-recorded video interview with a female victim of coerced pornographic filming. She signed a contract with an agency to work as a pinup model. Afterwards, she was informed about appearing in pornographic films. She tried to decline, but the agency persistently tried to persuade her – keeping her in their office for hours at a time, threatening her verbally, and intimidating her with payments they alleged she would have to make – some million yen in penalties. They said if she couldn't afford, they would contact her parents. The woman was exhausted and vulnerable to the point where she gave in. After the shooting of the film, the production company continued to threaten her, saying they would contact to her parents and school and speaking of "financial penalties". She felt powerless and kept on appearing in pornographic films.
The woman participated in many pornographic shoots, day after day. She wasn't informed of any details about the shoots, was naked, had her hands and feet bound by 5 to 6 men, and repeatedly forced to have sexual intercourse with no protection. She cried after every shoot and felt that her human dignity was lost. Because the shootings were extremely intense, she thought that even if she tried to stop them, she would be persuaded and forced anyway. She decided to kill her emotions and obeyed orders so that she would be released as quickly as possible.
She wants the world to know that a portion of those appearing in pornographic films do so with anguish, and against their will. She expressed hope for a system which ensures appearances based on true consent, not by threats and coercion.
Deceiving or deceived, which is worse?
Kayo Matsumoto, a freelance news reporter, gave a speech at the symposium. Ms. Matsumoto was working at a television station as a news reporter she made headlines for reportedly appearing in a pornographic film. She was forced to cancel her appearances and quit her job. Afterwards, she was unable to work as a news reporter for more than a year. She said the truth behind the story was, when she was a student, she participated in a TV program and agreed to eat candy in front of a camera. Then the clip was used in a pornographic film without permission.
She spoke about the culture of victim blaming, saying "many people think you only have yourself to blame for being deceived, but if your parents fell victim to a scam, would you blame your parents for the crime that have happened to them?" She also argued that to make society a better place it was necessary to create a culture where victims could raise their voices against crimes without fear.
Results of our policy proposals based on the investigation report
HRN is waiting for developments regarding the policy proposals we proposed as part of our investigation report. On June 2, 2016, following the symposium, the Cabinet of Japan approved a written reply, which stated the cabinet office will conduct hearings from civilian groups to determine the extent of the damage, in agreement with notion that forced filming of pornography is "violence against women". Additionally, the Intellectual Property Promotion Association (IPPA), which represents Japan's pornographic film industry, made a statement on June 24, 2016, that based on the proposal from Human Rights Now (HRN), it would move to quickly improve the situation across the entire industry.
HRN hopes that through the investigation, Japanese society will begin to see the forced filming of pornography as a problem and demand measures in response. HRN will continue its work aimed at protecting dignity of women.
If you wish to support our activity, please visit the following link to take part in our signature-collecting campaign calling for new legislation for the relief of the victims: https://goo.gl/KfE6Hf