Message from Ito Kazuko (HRN Secretary General): Looking Back at 2015, and Moving Forward to the New Year We are asking for Winter Donations to support our activities in 2016.
Looking Back at 2015, and Moving Forward to the New Year
We are asking for Winter Donations to support our activities in 2016.
Human Rights Now Secretary General Kazuko Ito
Thank you for your continuous support and cooperation for Human Rights Now (HRN). This is Kazuko Ito, HRN Secretary General.
How was 2015 for you?
Our activities in 2015 started out with the release of our investigative report on the working conditions in UNIQLO's Chinese suppliers in January. The shocking working conditions in the factories attracted a lot of attention from media, and my article on Yahoo News triggered a lot of response, with about 3 million views. Our activities have brought a change as Fast Retailing Co., Ltd. (FR) promised improvement. http://hrn.or.jp/eng/news/2015/01/12/investigative-report-on-the-working-conditions-in-uniqlos-china-suppliers/
However, we think FR's measures are not sufficient, and we are calling for improvements based on the investigations in China and Cambodia. At the same time, we are making efforts to raise awareness about the responsibility of multinational business, especially in the fashion industry, to respect human rights in their oversea suppliers.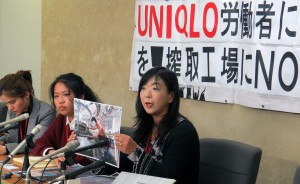 This year was marked by the Security Bills submitted to the diet in May which shocked people in Japan. HRN played an active role in lobbying against the bills from the point of view that war is ultimate form of human rights violations. In July, in collaboration with various NGOs, HRN played a key role in launching "NGO NO WAR NET WORK." Also, HRN sent a message that we must learn lessons from human rights violations in the past war and never repeat the tragedy by releasing a statement on the 70th anniversary of the end of WW2 in August, and launching a special website where experts and professionals from various background shared their thoughts to commemorate the anniversary. http://afterwar70.hrn.or.jp/
Unfortunately, the Security Bills were passed in September, but we continue to work with various NGOs to make sure that the Bills will never be exercised.
In November, democratic general elections were held for the first time in 20 years in Myanmar (Burma), the country we have supported for many years. Three member of Human Rights Now joined as international observers and contributed to the fair elections. In light of the winning of NLD led by Aung San Suu Kyi, we'll work to ensure a democratic transition of power, and continue with human rights education and empowerment projects for young leaders and lawyers in Myanmar.
http://hrn.or.jp/activity/5235/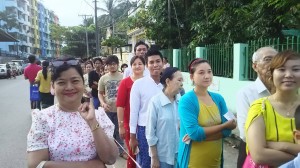 Also, we achieved a positive outcome in the issues of dangerous child labor and human trafficking in Meghalaya, north-east India, where about 70,000 children were affected. We have been addressing the issue since 2010, and the Supreme Court finally upheld a decision to close the mines in 2015. We'd like to continue our activities to prevent children from engaging in forced child labor.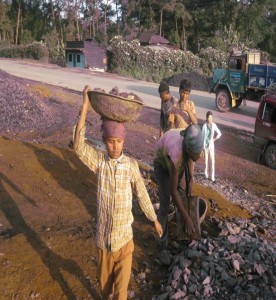 In addition, the Charity Walk and Run, held on November 21 to commemorate the Universal Children Day was a great success. Also, we were able to share wonderful speeches from students who participated in the Speech Contest on children's rights, a new content we launched in October as part of our campaign to commemorate Universal Children's Day. We sincerely appreciate your support for the event.
Furthermore, we have continued to work on various issues, such as human rights situations after the earthquake and nuclear accident in Fukushima, Syria and Iraq conflicts, woman and children's rights, protection of human rights in Asian countries, especially in China and Cambodia, and freedom of speech and press in Japan.
As the end of the year is approaching and as we look to the start of a new year, we are asking that you consider supporting us with Winter Donations.
We sincerely appreciate that many donors have already supported us with "Winter Donations" we started in this December. However, this year's general donations is less compared to last year, and we need funding to continue our activities on human rights issues that are increasing both in number and severity.
The activity of Human Rights now is supported by donations and membership fees from individuals and organizations. We really appreciate if you could support us with your donations that would allow us to continue to work energetically on various human rights issues in 2016 as well.
As the year of 2016 marks the 10th anniversary of Human Rights Now, we are currently working to expand the scope of our activities by deploying researchers in Myanmar and Cambodia and putting a lot of effort into lobbying at UN in New York and Geneva, with an aim to increase our presence as an international human rights NGO globally. At the same time, in light of the critical situation regarding fundamental human rights and pacifism in Japan, we are strengthening our efforts to address human rights issues in Japan. Also, as the world faces a never-ending cycle of retributions brought forth by military actions which are killing countless innocent civilians under the name of "counter-terrorism", we believe it's time to exercise our unique role as an international human rights NGO based in Japan, the country with Article 9 which renounces war.
With more funding, we would be able to engage in more research activities to shed light on human rights violations and to take actions to end such human rights abuses.
Human Rights Now is an approved specified nonprofit corporation registered in Japan, thus, donations from residents in Japan are tax-deductible. With consent of donors, we'd like to put the names of donors on our website as our supporters.
Donations can be made via bank transfer, credit card and PayPal.
We appreciate your donations to support our activities.
Online Payment (Credit card/PayPal)
Please visit our donation page  to make contributions.  http://hrn.or.jp/eng/join/
Bank Transfers (from Japan)
Bank of Tokyo-Mitsubishi UFJ, Ueno Branch (Branch No. 337), Account No. 5466424, Account Name, [Tokuhi] Human Rights Now] Before your donation, please contact us.
Bank Transfers (from outside of Japan)
Bank of Tokyo-Mitsubishi UFJ, Account No. 337-5466424, Swift code: botkjpjt, Account Name, Tokutei Hieiri Katsudou Houjin, Human Rights Now. Prior to your donation, please contact us.
          * We are accepting Winter donations from December 1, 2015 to January 31, 2016
We wish you a happy new year and we hope that 2016 will be a hopeful year for those suffering around the world.
We sincerely appreciate your support and cooperation.
Best Regards,
Ito Kazuko, Secretary General of Human Rights Now