Sales: Human Rights Now 2013 Calendar
Human Rights Now 2013 Calendar
"We are all the same, We are all friends" by Kazunori Hashimoto, launched in October 2013!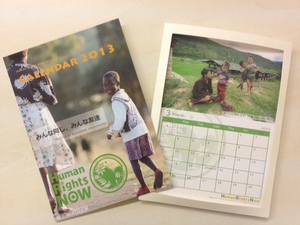 This beautiful collection of photographs was taken by photographer Mr. Kazunori Hashimoto, and they deliver smiles from children all around the world.
◇ Price: 1,000 yen each (tabletop calendar).
◇ Each photograph can also be used as a postcard.
◇ Free shipping! The calendar will make a great gift for family and friends.
◇ Revenue from calendars will be used to fund activities of Human Rights Now.
[How to Purchase]
Please proceed to the "
Donations
" page to make your purchase.