【Event】NGO CSW parallel event in NY
#WeToo & Olympics: Collective Voice Against Discrimination and Sexual Violence in Sport
On March 12, 2019, Human Rights Now will hold an event titled "#WeToo & Olympics: Collective Voice Against Discrimination and Sexual Violence in Sport," in NY City.
From March 10 to March 22, the 63rd session of the Commission on the Status of Women (CSW 63) will be held at United Nations headquarters in NY. Every year during the CSW, many NGOs from around the world hold parallel events on a wide range of topics to protect and promote women's rights. Human Rights Now will hold a panel discussion featuring HRN Secretary-General Kazuko Ito and following guest speakers.
Guest speakers
An Olympic champion swimmer, a civil rights lawyer, and CEO of Champion Women, a non-profit providing legal advocacy for girls and women in sports. Co-author of Equal Pay, Title IX and Social Change.  
A seven-time member of the US national gymnastics team and the 1986 national champion. Senior vice president and chief marketing officer of Levi Strauss & Co. Author of Chalked Up, a New York Times E-Book best seller.
Everyone is welcome. Please RSVP now.
Date: March 12, 2019
Time: 6:15pm-7:45pm (Door opens @ 6pm)
Venue: The Armenian Convention Center (Vartan Hall)
Address: 630 2nd Ave New York, NY 10016
Admission: Free & open to the public (Donations appreciated)
RSVP: hrnnyinfo@gmail.com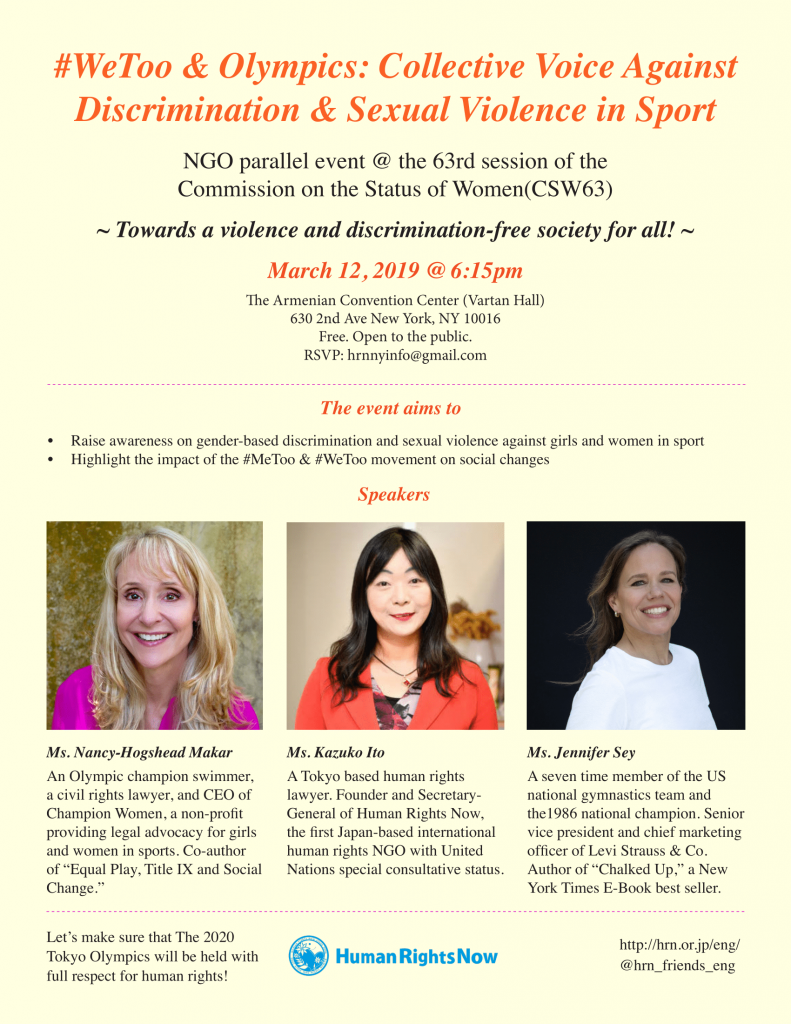 The 2020 Tokyo Olympics will be held within less than a year and a half from now. Olympics are international events that get global attention and are perfect occasions to raise global awareness of gender-based discrimination and violence against girls and women.
This event aims to raise awareness on gender-based discrimination and sexual violence against girls and women in sport and to share lessons and practices to apply to the context of Olympic games. The event also aims to highlight the impact of the #WeToo or #MeToo movement on social changes.
HRN expects that the event will help us ensure that the upcoming Tokyo Olympics will be held with full respect for human rights