Spring 2019 Book Club
Join our English Discussion Class
~ Feminism & Women's Rights ~
Human Rights Now is organising a weekly discussion class to talk about women's rights issues and feminism in Japan and abroad. We will be using the book "We should all be Feminists" by Nigerian author Chimamanda Ngozi Adichie. The book gives a definition of feminism for the 21st century and brings up topics such as female empowerment and the role of masculinity in society. The book is based on a TED-talk by the author, which you can watch here. It is available for purchase through amazon.jp for a small fee.
This discussion group is aimed at intermediate to advanced speakers of English, although anyone is welcome to join. The course materials will support learners of English in their understanding of the book and the sessions will encourage active participation.
To register, please fill out our online application form.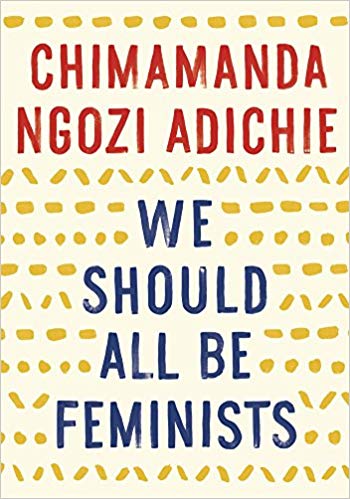 Practical Information
Time:
Thursday Evening
19:30-21:00
Schedule:
Session 1: May 9
Session 2: May 16
Session 3: May 23
Session 4: May 30
Session 5: June 6
Location: HRN Office
4F Suzuki Bldg., 335 Yamabukicho, Shinjuku-ku,
Tokyo 162-0801 JAPAN
Tel:+81-3-6228-1528
Price: ¥2000 per session (Students: 
¥
1500)
All proceeds will go towards HRN's human rights advocacy work.
Who We Are
Govindi Deerasinghe
Govi is a UK-trained lawyer with extensive experience in the area of gender and women's rights. She joined HRN's Tokyo office as a research fellow in September 2018.
Tamieck van Vuuren
Tamieck has a law degree in international human rights from the Irish Centre for Human Rights. Her main areas of expertise are migrants' rights, disability rights and women's rights issues. Since September 2017 she has worked as a research fellow at HRN's Tokyo office.
Topics and Lesson Schedule
Date & Time
Topic
Assigned Reading

May 9, 2019

19:30 – 21:00

Introduction to Feminism

"We should all be Feminists"

Pages 7  to 25

May 16, 2019

19:30 – 21:00

Women & International Law

CEDAW Convention

SDG 5

#MeToo movement

UN Women Infographic "Human Rights of Women", available

here

.

May 23, 2019

19:30 – 21:00

Women's Rights & the Role of Men

"We should all be Feminists"

Pages 26 to 37

&

HeforShe Equality Stories (short videos), available here.

May 30, 2019

19:30 – 21:00

Women's Rights around the World

Guest Speaker TBC

"We should all be Feminists"

Pages 38 to 48

June 6, 2019

19:30 – 21:00

Why we should all be Feminists

Participants are invited to prepare a short 5-10 minute presentation on a women's rights topic of their choice.