New York Office Launch Party
On October 25, 2018, Human Rights Now New York office ("HRN-NY") held its launch party at WeWork-Penn Station. The gathering celebrated HRN-NY acquiring non-profit status under New York law, after first establishing its presence in New York in 2013.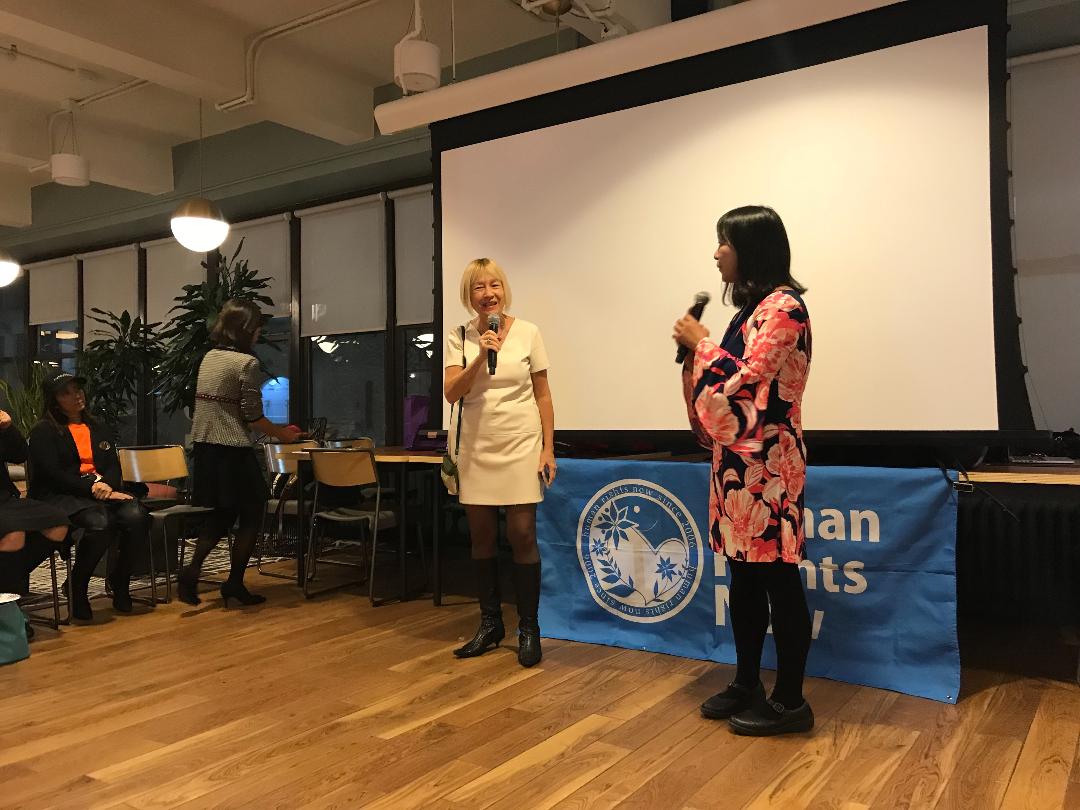 Ms. Nozomi Terao,  a board member of HRN-NY, kicked off the party with introductions, followed by speeches from HRN Secretary-General and founder Ms. Kazuko Ito; Ms. Maromi Martinez, HRN representative to the United Nations; and Ms. Yoko Kobayashi, acting representative to HRN-NY.
Ms. Ito shared the story behind the 2006 launch of HRN, the first international human rights NGO in Japan. She reflected on her experiences at NYU Law School in 2004, where she witnessed first-hand U.N. experts and NGOs fighting to improve serious human rights violations all over the world using the U.N. system, alongside young human rights activists from around the globe. A young Ms. Ito was greatly inspired by these experiences, and she felt that a lot could be done from Japan to contribute to the improvement of human rights around the world. Her commitment to "tackle serious human rights violations across borders" led her to found HRN. Now, HRN officially launches in New York, with the aim of making a difference directly at U.N. Headquarters, where decisions are made on serious human rights violations on a daily basis.
Ms. Martinez shared HRN-NY's recent activities, including attending U.N. meetings and building a network with other New York-based NGOs. In support of HRN's focus on women's rights, HRN-NY will also lead HRN's work at the Commission on the Status of Women (CSW), held every March at U.N. Headquarters, by hosting relevant panels and events. Ms. Kobayashi provided information on ways to support HRN and called for support through donations, membership, and volunteering.
Later in the evening, Ms. Cindy Gallop, a well-known entrepreneur and a popular TED speaker, gave a speech describing how she learned of HRN's activities and how its principles resonated with her values. She explained how she became a supporter of HRN in order to help raise the profile of human rights and fights rights violations around the world. Ms. Gallop expressed her continued support for HRN-NY.
The party was attended by over 40 guests from diverse countries and professional backgrounds, many of whom were eager to ask what they can do to help. HRN thanks those who shared this special evening with us and who made generous donations to support our ongoing work fighting for human rights. We look forward to your continued support.